If you are looking for something fun to bake this Easter, why not bake a bunny butt cake? They are not only fun and adorable, but they taste delicious! Here are our favorite bunny butt cake recipes this year.
Traditional Bunny Butt Cake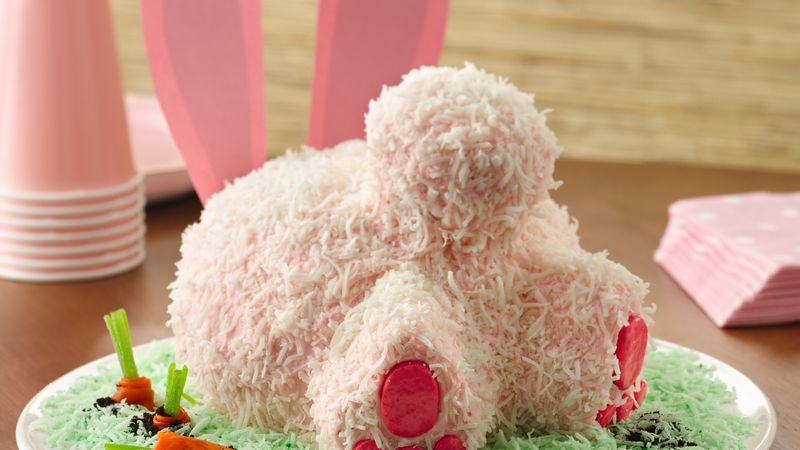 This is what started it all: Betty Crocker's bunny butt cake. An adorable, pink iced, candy covered confection dusted with coconut flakes. Using the original recipe is super easy, because you are just baking a cake from a mix and adding food color to ready made frosting. The trick is baking the cakes in the right shape, and taking the time to assemble the cake properly.
You can use either white or yellow cake mix. The trick is you bake the cake inside an eight inch ovenproof bowl, and three muffin cups. The cake baked inside the bowl makes the bunny's body, and the cupcakes make its little legs and cotton tail. Once the cake and cupcakes are baked and cooled, you use pink frosting to adhere the legs and tail to the body. If they don't stay, you can sneak in a couple toothpicks to keep them in place. Two marshmallow halves make the bunny's heels.
Once the cake is frosted, you cover it in coconut flakes, then use candy to decorate it- like when you decorate a gingerbread house. You make the ears our of construction paper. It's as simple as that! Here is the full recipe with directions: Betty Crocker Bunny Butt Cake
Bunny Butt Cupcakes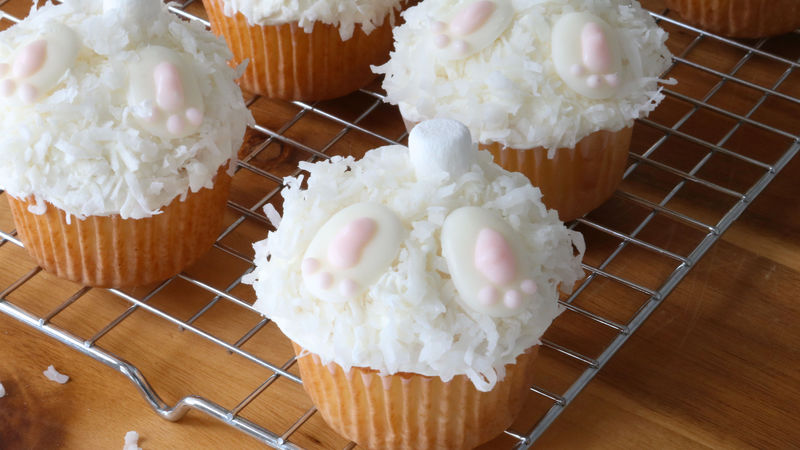 These will absolutely delight the kid in you, and every little one you know. These are as easy to make as the traditional bunny butt cake. They don't require cake assembly, but you do have to use some very basic candy making skills to make the little bunny feet. Don't worry- it's not that hard. You just melt candy coating (almond bark) in a microwave, and spoon it out in half-teaspoons on a foil covered baking sheet. Then, to make the pink pads of the bunny feet, you put a drop of red food coloring in the candy coating. Finally, you use an icing bag to pipe the pads onto the white feet. If you don't have an icing bag, you can use a plastic food storage bag and just cut off the corner to create a homemade icing bag.
Our favorite part of this Bunny Butt Cupcake recipe is that it recommends filling the cupcake tins with more batter than usual, to make sure the bunny's butts are perfectly rounded!
Chocolate Bunny Butt Cake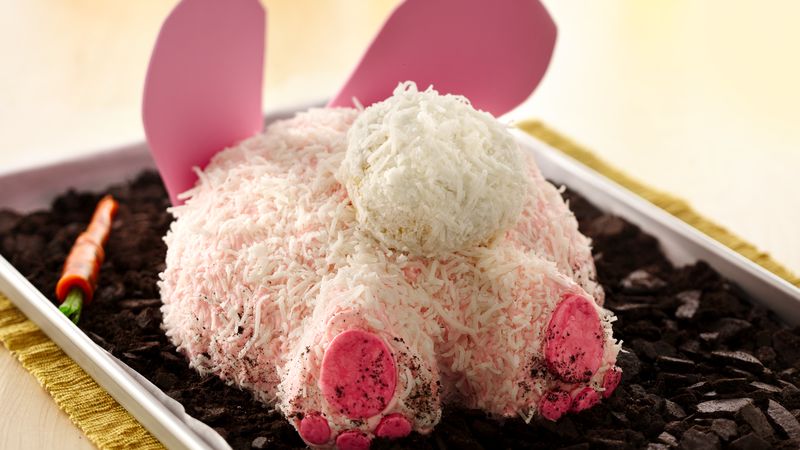 This is for all you chocolate lovers out there! It's basically the same as the regular bunny butt cake, but you use chocolate cake mix instead of white or vanilla cake mix. After constructing the bunny, you place it on a cookie sheet covered with crushed chocolate wafer cookies. You can even sprinkle some of the cookie crumbs on the bunny's little feet, to make it look like it was digging!
Bunny Diving into a trough of candy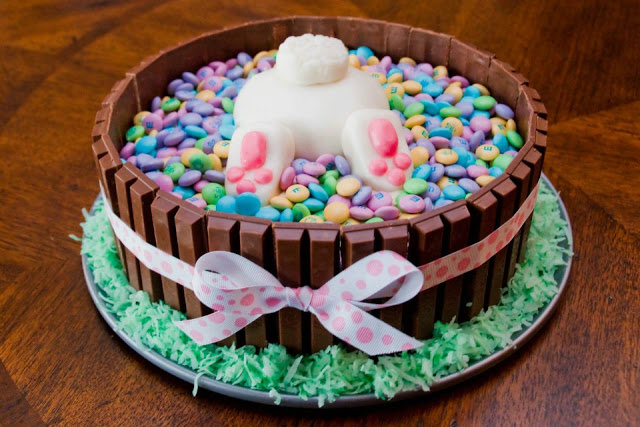 This is a completely different version of the bunny butt cake. In this version, you make a cake and frost it. Then, you take segments of Kit Kat bars and stick them into the icing on the sides of the cake- that makes it look like the candy and bunny are in a barrel.  The bunny is made out of fondant, which you can buy at the store or make your own from scratch. Finally, you cover the cake with pastel colored Easter M&Ms. Here is the recipe: Bunny Butt Cake Diving Into a Trough of Candy
Bunny butt burrowing into the bottom of the cake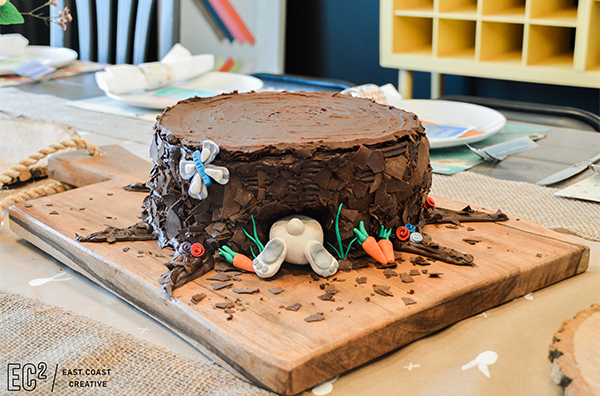 This recipe takes a chocolate cake from Costco, roughs up the icing to make it look like a tree stump, then adds a clay bunny. Which are great hacks if you are short on time, but we are in quest of the perfect bunny butt cake! Our recommendation is to copy their design, but make your own chocolate cake and create a bunny out of fondant. Or, you could make the bunny butt from a cupcake, then decorate with candy coating (like in the second recipe above) to make the feet and little bunny cotton tail.
Adorable bunny face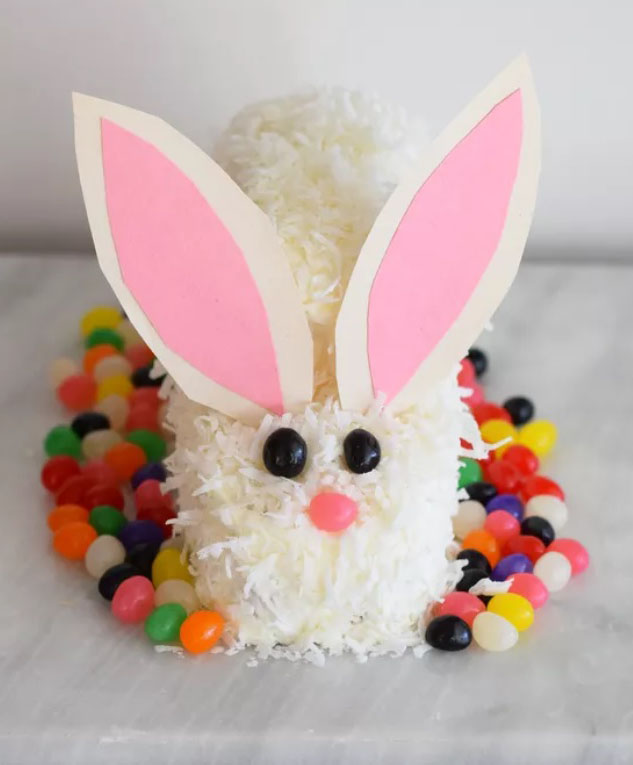 If you are more conservative and don't want to show the bunny butt, this is a fantastic option. Like the others above, it has that perfect Easter cake taste: vanilla cake with icing, covered in coconut. It's also a little easier to make as you don't need to use fondant or work with candy coating. All you need it to bake two round layer cakes, cut in half and stack on top of each other. Cut out a little triangle shape to make the head, ice, cover with coconut and then use jelly beans to make the eyes and nose. Add on the construction paper ears, and you've got it! Here is the full recipe: How to make a bunny cake
If you try any of these at home, we would love to see the results! Please paste a photo on our Facebook page so we can see and we will share our favorites.