Fall is a beautiful time of year in Tennessee; the state has some of the most gorgeous fall foliage in the country. Over half of Tennessee is covered in forestland so there are many, many places to view beautiful fall leaves.
Because Tennessee fall foliage is not as well known as the fall foliage in places like Vermont, it is more peaceful, and cheaper, to visit. We have written this Guide to Tennessee Fall Foliage to help you get the most out of your time enjoying this beautiful natural phenomenon.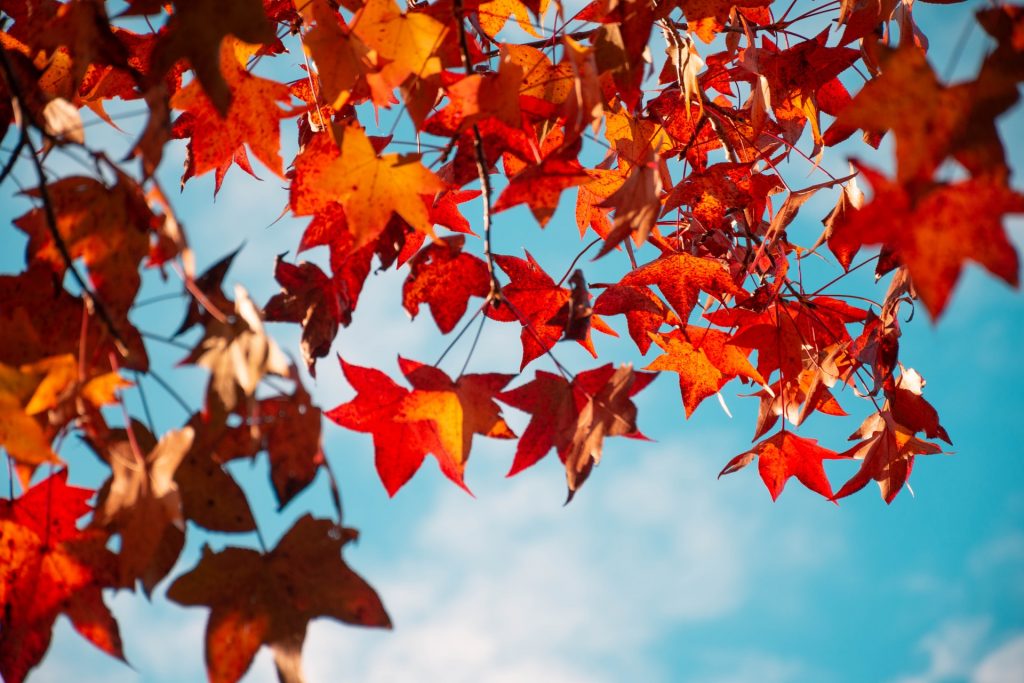 "Autumn is a second spring when every leaf is a flower."
-Albert Camus
When to see the fall foliage
Because it's further south, the leaves in Tennessee peak later than those up north. Although the leaves in places like Maine, Vermont and Michigan are currently at their peak, or even a little past, now is the perfect time to see the fall foliage in Tennessee. In the west and middle parts of the state the leaves are just starting to turn. They are near peak in the Smoky Mountains.
The 2022 Fall Foliage Prediction Map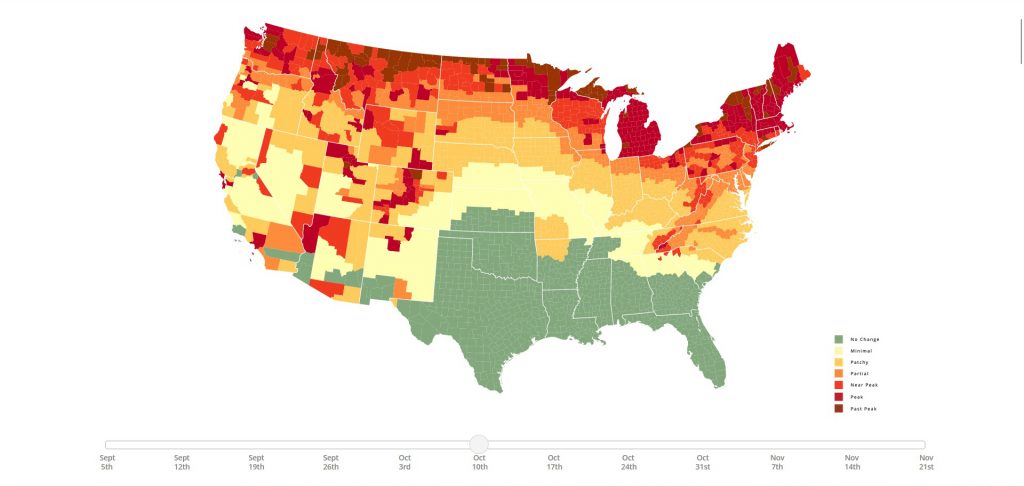 How does this strange magic actually happen?
The truth is that the real magic happens in the summer, when the leaves are green. Chemicals such as beta carotene (as in carrots- they make the leaves orange), anthocyanin (which makes the leaves range in color from strawberry red to the purple color of blackberries) and flavonols (which gives leaves their bright yellow color) are always present in leaves. Flavonol production ramps up in the autumn, but the other chemicals are present at all times of the year. These compounds do important things like protect the leaves and harness the energy produced by chlorophyll.
When leaves start to grow in the spring, they contain lots of chlorophyll. In fact, the leaves constantly create chlorophyll until autumn. This is because the trees need energy to grow; they get this energy from glucose. The chlorophyll turns sunlight into glucose through photosynthesis; you are now as smart as a fifth grader after reading this! As the days get colder, chlorophyll production slows, then ceases altogether. With less chlorophyll in the leaves, they don't reflect as much green light. This allows the natural, underlying color of the leaves to shine through.
Which leaves are which?
Different species of trees have different amounts of chemical in their leaves, which is why they don't always turn the same color. This trusty guide to Tennessee fall foliage will walk you through the most beautiful species.
Maple trees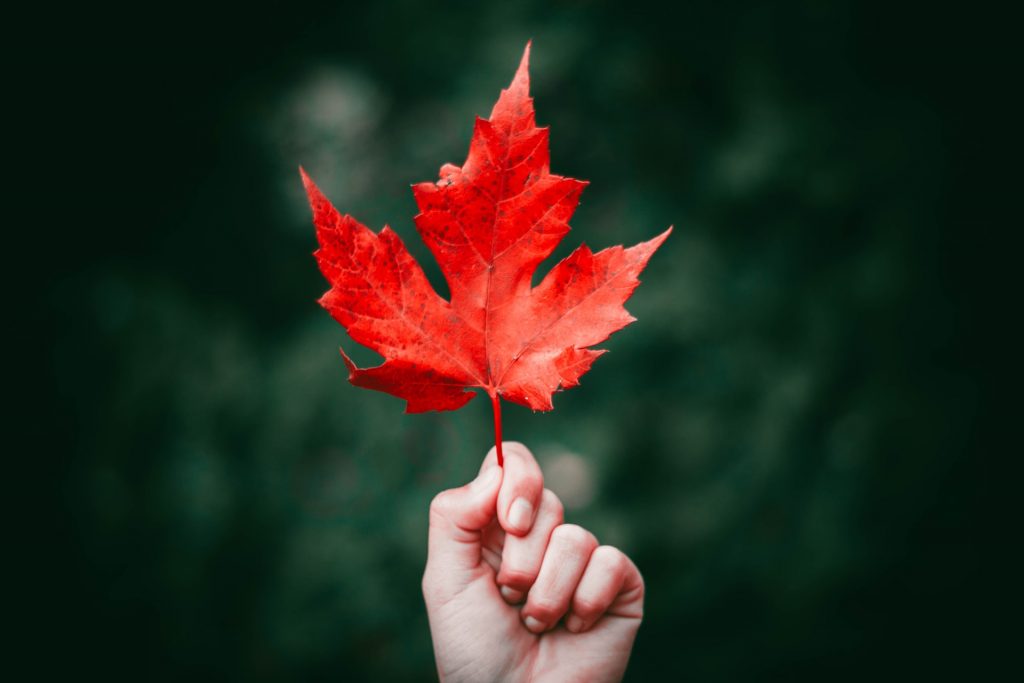 There are actually many types of maple trees that grow all around the world. Not all of them turn red in the fall.
The trees most people associate with beautiful fall foliage are sugar maples; this is the variety which produces maple syrup and has leaves that turn beautiful shades of red, orange and yellow. Tennessee is actually at the southern edge of the range where sugar maples occur. They are more common in the eastern part of the state, at higher elevations.
However, don't worry. The state has a type of maple that produces vibrant red leaves in autumn: the red maple. Red maples are native to Tennessee, so you can see them all over the state, not just in the Great Smoky Mountains. Red maples have a special bonus: they not only have fall foliage but red flowers that bloom in the early spring, before the leaves grow. This gives these trees a ruby glow iwo seasons of the year.
Oak trees
There are twenty species of oak trees that are indigenous to Tennessee. Oaks trees are some of the last to change colors, so even if you plan your trip a little later in the season, you will still see some beautiful Tennessee fall foliage.
Interestingly, the leaves of many species of oak trees don't change color- they just turn brown. However, there are two species of oak trees that display beautiful colors in the fall: scarlet oaks and pin oaks.
The canopies of scarlet oaks (also called red oaks) can spread up to 50 feet in diameter. These trees produce large acorns that are not just eaten by squirrels, but also by mice, deer, wild turkeys and other birds.  As their name implies, their leaves turn a beautiful crimson color in the fall.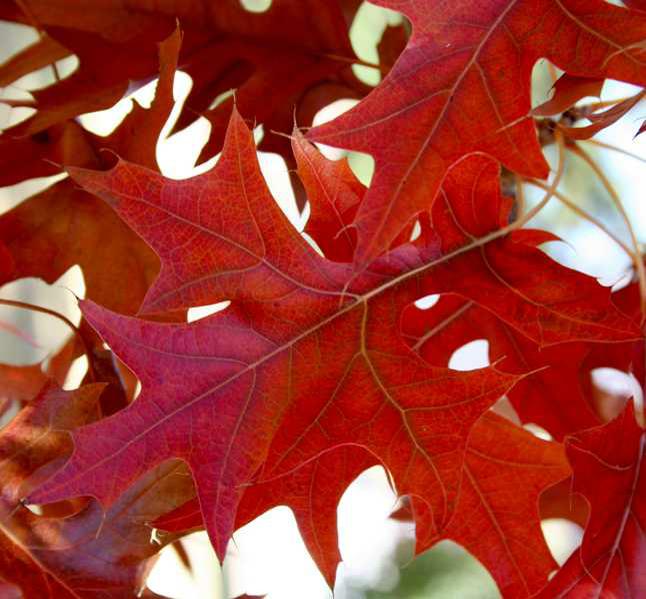 Pin oak leaves, like scarlet oak leaves, also turn red in the fall. However, they can also turn a bronze color that beautifully reflect the sunlight on a bright fall day. Pin oaks retain their leaves over the winter. They don't fall off the tree until the spring, when new leaves force them off the tree.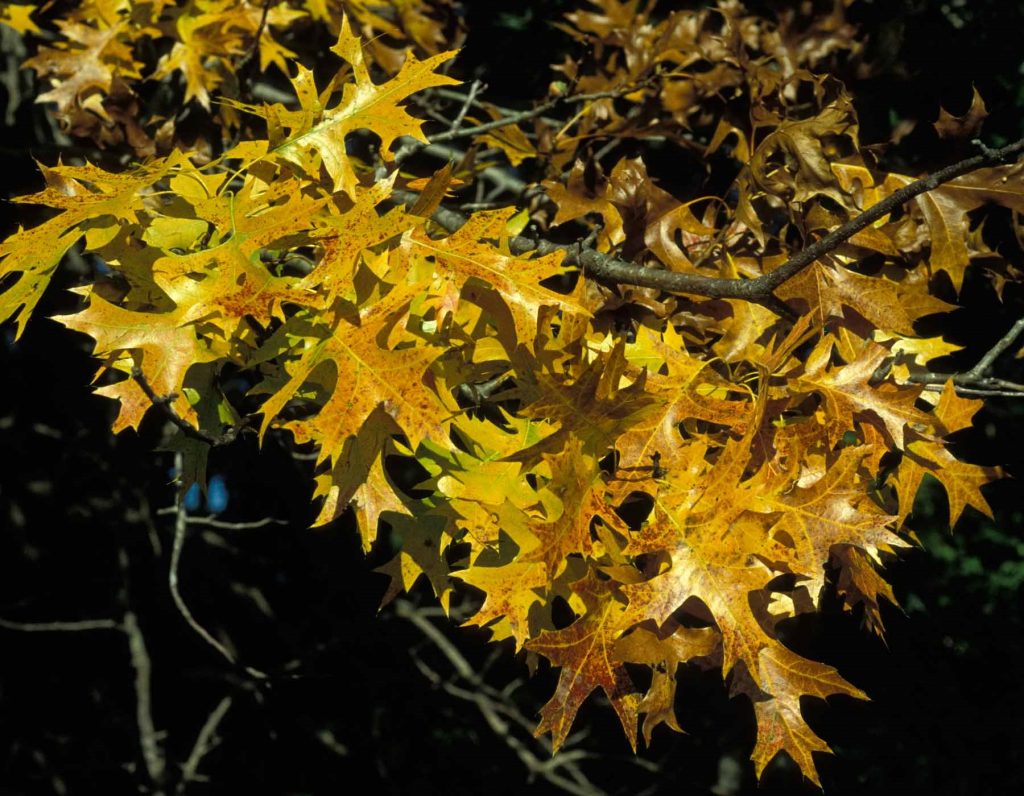 Hickory trees
There are eight different species of hickory. Four species are known as "true hickory"and four are known as "pecan hickory." Bitternut hickory trees are pecan hickories and, like pecan trees, produce nuts. As their name implies, their nuts are quite bitter, unlike the sweet nuts produced by pecan trees. Bitternut hickories are native to Tennessee; their leaves turn a sunny yellow in the fall. They are the shortest lived of all hickory trees, living "only" about 200 years.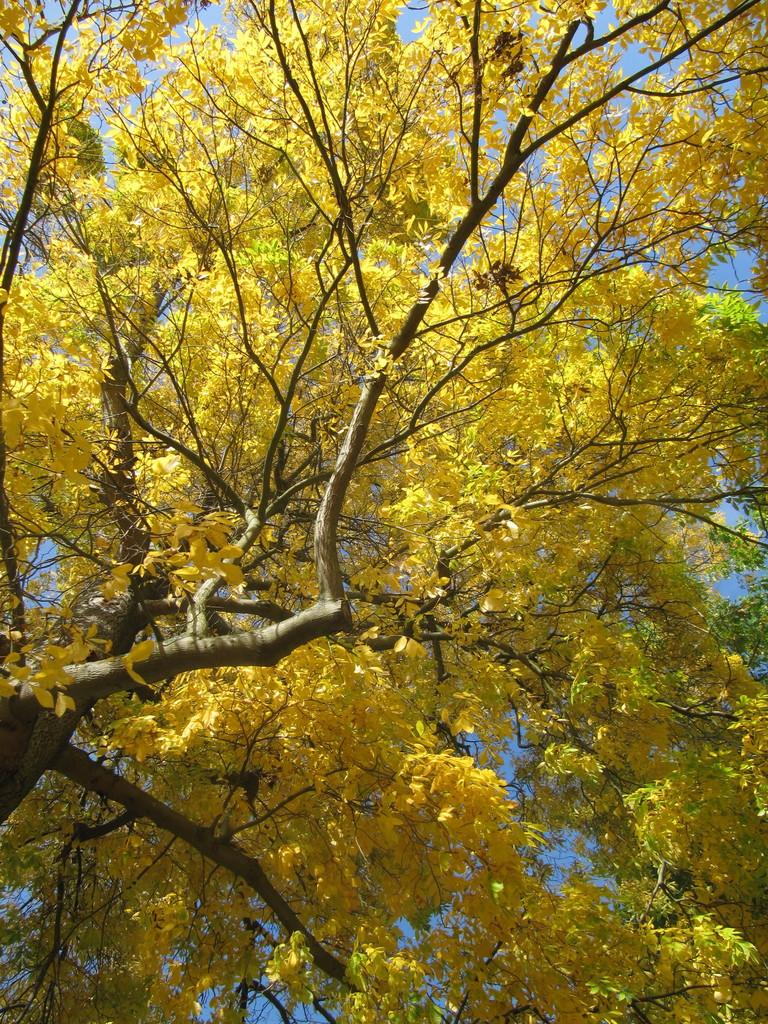 Ginkgo trees
Ginkgo trees are not native to Tennessee, but you can seem them in many urban areas because people plant them in their yards and gardens for their beautiful, fan shaped leaves that turn a brilliant yellow in the autumn.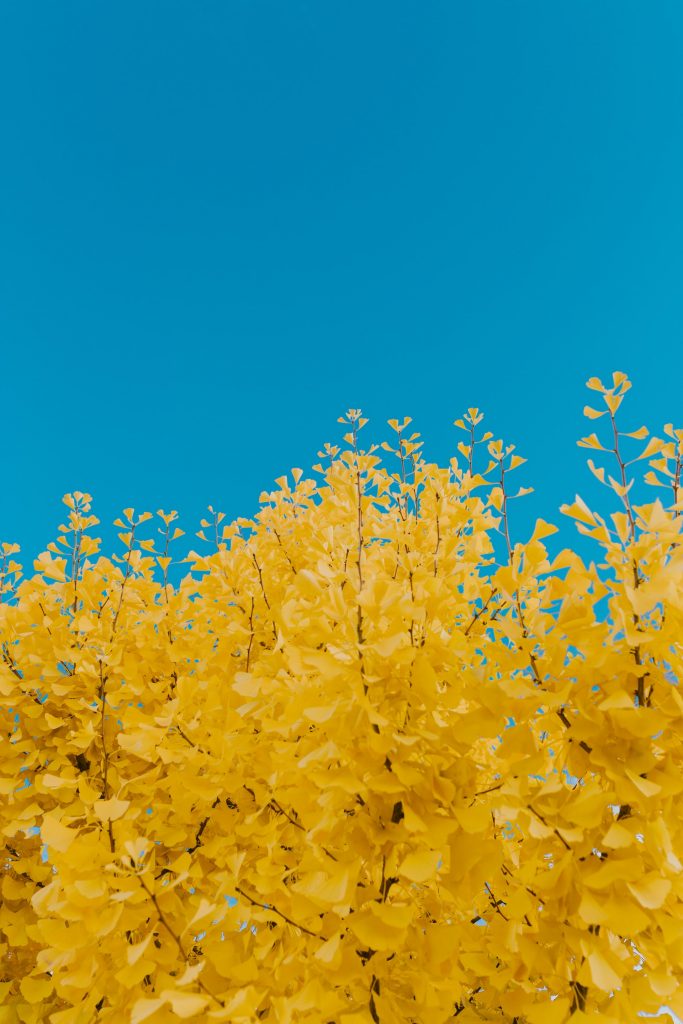 Sassafras trees
Sassafras trees produce some of the most striking fall foliage in Tennessee and are very enchanting trees. They don't grow very tall; usually only 30-60 feet high. Aside from their multi-colored leaves, they have a wonderful aroma that is so noticeable that early settlers wrote about it. Most would agree that sassafras bark smells like cinnamon, its roots like root beer, its leaves and stems like a sweet lemon. Root beer was originally made from sassafras roots and many "medicinal" potions were made from the tree in the days before modern medicine.

Like mulberry trees, sassafras trees have leaves of three different shapes on the same tree. In the fall, these leaves turn yellow, deep orange, scarlet and purple. Additionally, they produce small blue fruit in the fall. They are definitely worth seeking out on your Tennessee fall foliage trip.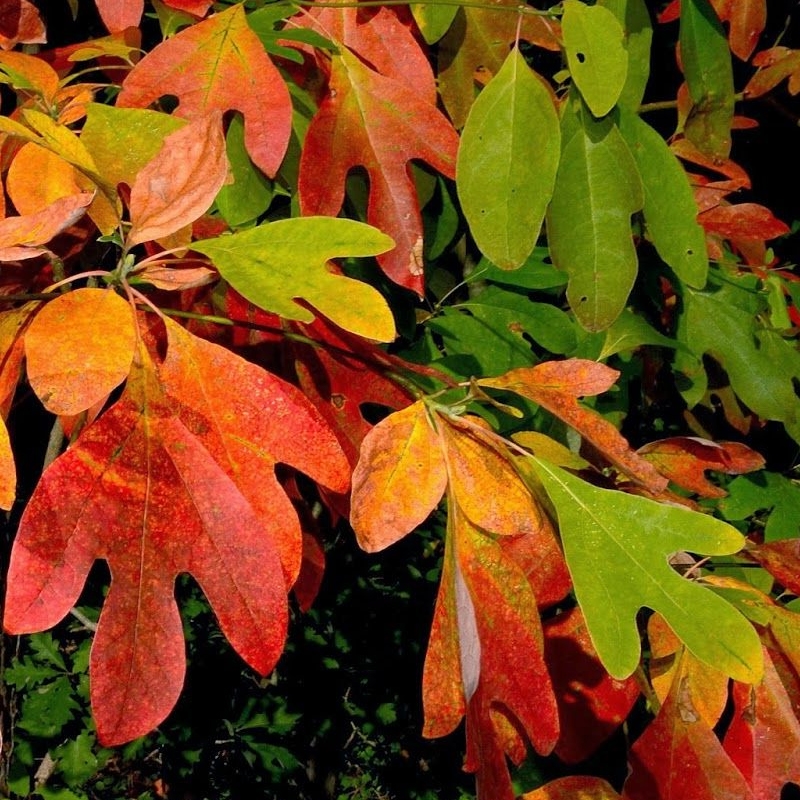 Sweet gum trees
These are the absolute favorite tree of the guide to Tennessee fall foliage. This is because their leaves turn a broad range of colors: from yellow to a deep purple, with bright orange and red leaves interspersed to make a ribbon of color in their branches. They are impressive trees, growing up to 100 feet high with a canopy diameter of 70 feet. As anyone has ever owned a sweet gum tree will tell you, there is one drawback: they produce sweet gumballs. Stepping on one of these in bare feet is worse than stepping on a LEGO, so make sure you keep your shoes on when you are hiking to see fall foliage.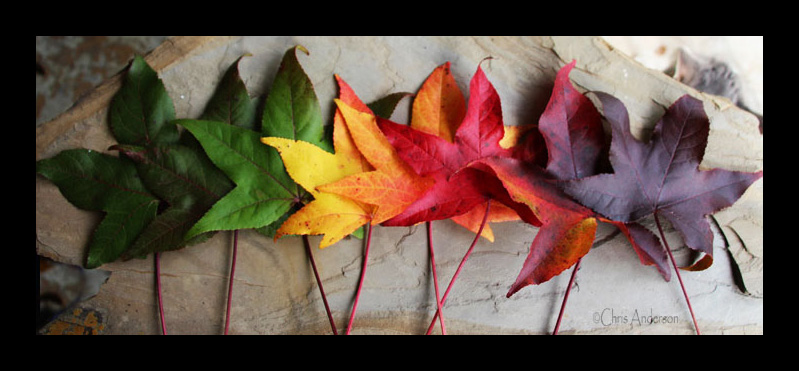 Where are the best places in Tennessee to see the fall foliage?
The most popular place to see fall foliage in Tennessee is in The Great Smoky Mountains. However, there are beautiful places all around the state to see them, many of them close to The River Club. Here are three of our favorites that are all a short drive from The River Club:
Fall Creek Falls State Park
Located an hour south of Cookeville, Fall Creek Falls offers incredible hiking, overlooks, waterfalls, and overnight accommodations. One of the most popular Tennessee State Parks, overnight stays at Fall Creek Falls should be planned at least a month in advance.
Standing Stone State Park
Standing Stone is located 40 minutes north of Cookeville, Tennessee. The park offers hiking, paddling, fishing, birding, and cozy cabins.
Cumberland Mountain State Park
Cumberland Mountain is located 45 minutes southeast of Cookeville in Crossville, TN. The park is located near Ozone Falls State Natural Area and sections of the Cumberland Trail State Scenic Trail that offer additional opportunities for recreation and color viewing.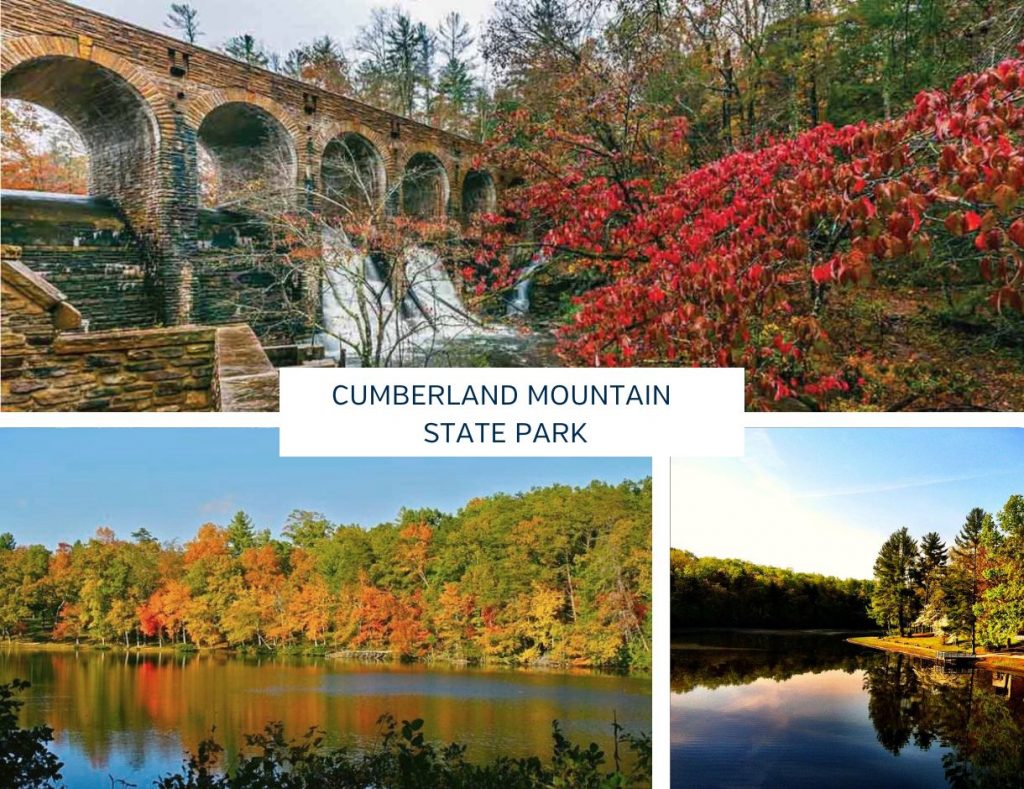 Do you want to live in the heart of Tennessee, surrounded by beautiful fall foliage? If so, CONTACT US TODAY to learn more about the homes on offer in The River Club.