Are you looking for fun cocktail recipes for New Year's Eve?  If so, here are some of our favorite.
Our recommendation, if you are hosting a New Year's Eve party, is to focus on one or two of the cocktails below. They are stunning enough that just one or two will make your party absolutely memorable. Just serve them alongside red and white wine, beer and sparkling water to provide a fun and festive bar experience for your guests.
Spiked seltzer with vodka soaked fruit
If you want something that is fun, memorable, easy, low in calories and right on trend, this is the recipe for you! Although it is often thought of as a summer drink, it is even bubblier than Champagne (and a lot cheaper) which makes it a perfect drink for New Year's Eve.
How to do it
Take a couple different kinds of fruit and soak in vodka. You can keep it basic and use sliced apples and oranges. Red cherries add a festive touch. Plums and peaches make a great combo and fresh watermelon is light and always a hit! For best results, soak at least eight hours. The easiest thing is to prepare the fruit the night before.
Next, you make the spiked seltzer water. Start with the seltzer. You can buy it at the store, make your own with a SodaStream or, if you are feeling really ambitious, you can even ferment your own!
Once you have the seltzer, add one to two ounces of unflavored vodka for each eight ounces of seltzer. This will be the base. Keep it in the refrigerator until the party.
Serve the seltzer in a large pitcher (or in a punch bowl if it is a large party and you don't have a bar tender), and place the soaked fruit in small bowls. For extra special touches, provide swizzle sticks for your guests to mix the fruit into the drink or herbal garnishes like rosemary or mint.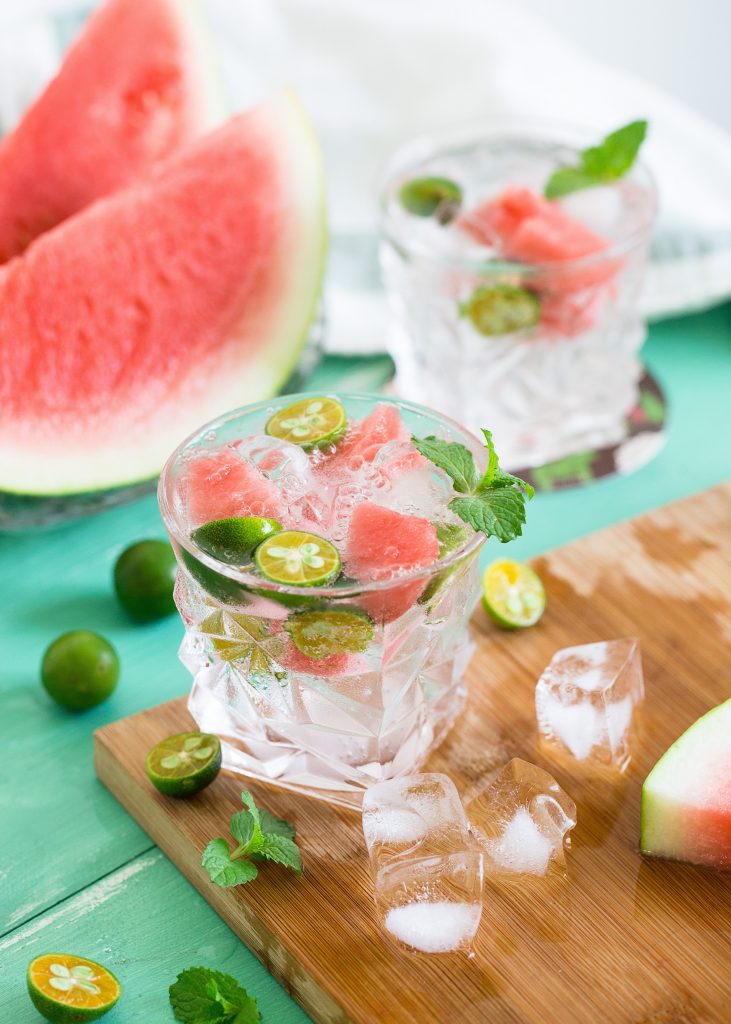 Shimmering Champagne cocktail
This is an easy, festive take on the traditional Champagne Cocktail. This recipe uses homemade grape juice to accent the flavor of the Champagne, but you could substitute black currant liquer (crème de cassis) or Chambord. 
Tip: If you want to save money, you can substitute Prosecco or Spanish cava for the Champagne.
How to do it
First, you need to buy some gold shimmer- the kind that is used for decorating cakes.
Next, take out your Champagne glasses. Put one ounce of grape syrup into each glass. Fill the rest of the glass with the Champagne/sparkling wine of your choice. Finally, add a half teaspoon of the shimmer to each glass and stir.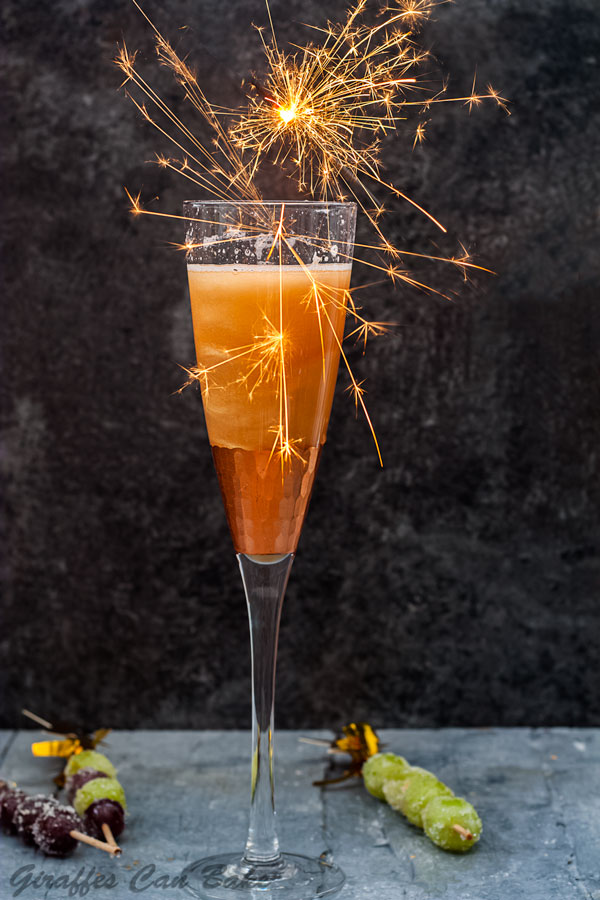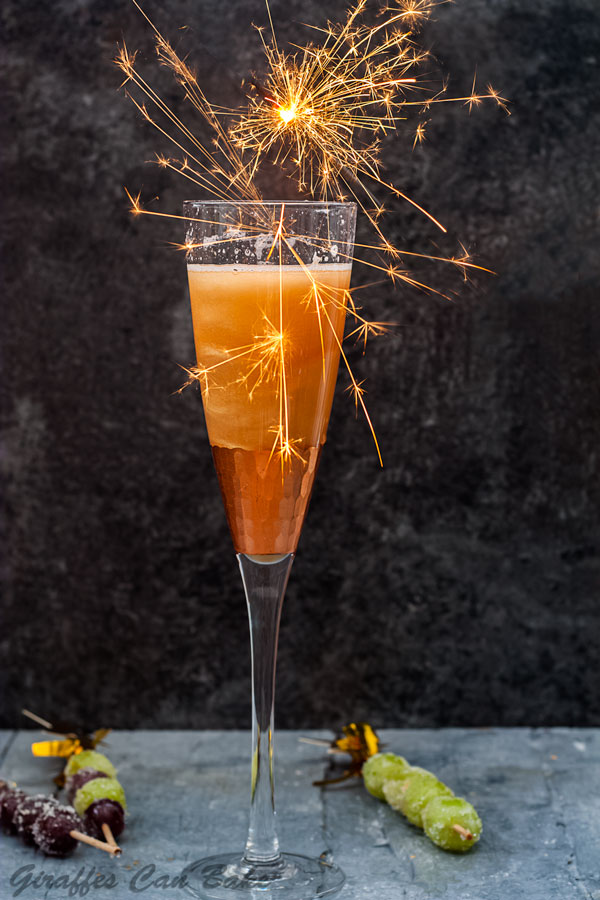 Winter martinis
This is an easy riff on a traditional gin martini. We recommend using Bombay Sapphire gin, as it has a slightly blue cast and the bottle will look beautiful next to your cocktails.
How to do it
In addition to the gin, you will need a bottle of vermouth and blue food coloring.  For each martini, use five parts of gin to one part of vermouth.
Start by chilling your cocktail glass (the easiest way is to fill it with ice)
Then, add plenty of ice and the vermouth to your cocktail shaker and stir to make sure the ice is coated with vermouth, then use your strainer to pour away the excess.
Add the Bombay Sapphire and a drop of food coloring to the shaker and shake the mixture for about 30 seconds to chill and dilute. Pour into your chilled glasses and add a festive swizzle stick or straw.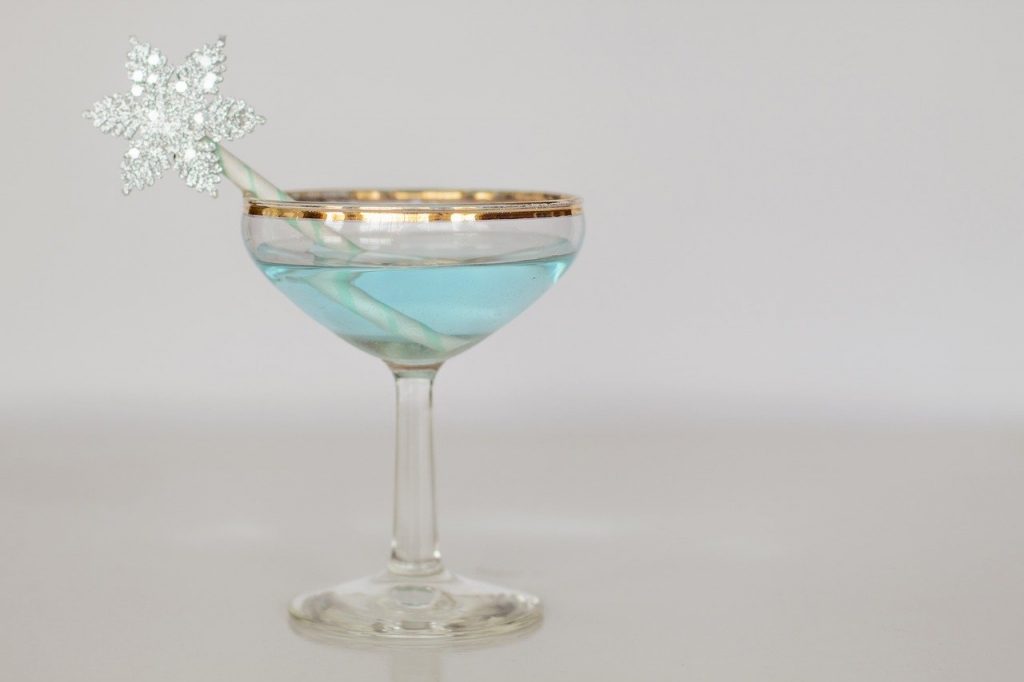 Frosting shots
This is the perfect shot if you want to add a little kick to your New Year's Eve toast, or have something sweet with your Champagne. Plus, like our other recipes, they are exceptionally easy to make and the bulk of the preparation can be done the night before.
How to do it
You will need one cup of canned vanilla frosting (you can make your own if you are feeling ambitious, or don't like the additives in most store bought frosting), a bottle of unflavored vodka, some gold or silver cake decorating sprinkles and corn syrup or honey.
First, dip the tops of your shot glasses in your corn syrup or honey, then in the sprinkles. Set the glasses aside (we recommend storing them in the refrigerator)
To make the vodka/icing infusion, microwave your frosting for 15-25 seconds to make it smooth and pourable. If you are making your own frosting, make sure it is room temperature.
Then, pour the frosting into a jar with a tight fitting lid. You can use a cocktail shaker, but you might not want to get it all sticky. Add vodka. The original recipe calls for a 2:1 ratio of frosting to vodka, but you can experiment with the ratio to find what suits you. Shake the two together until the vodka and icing are well blended. Pour into the shot glasses and serve to your guests.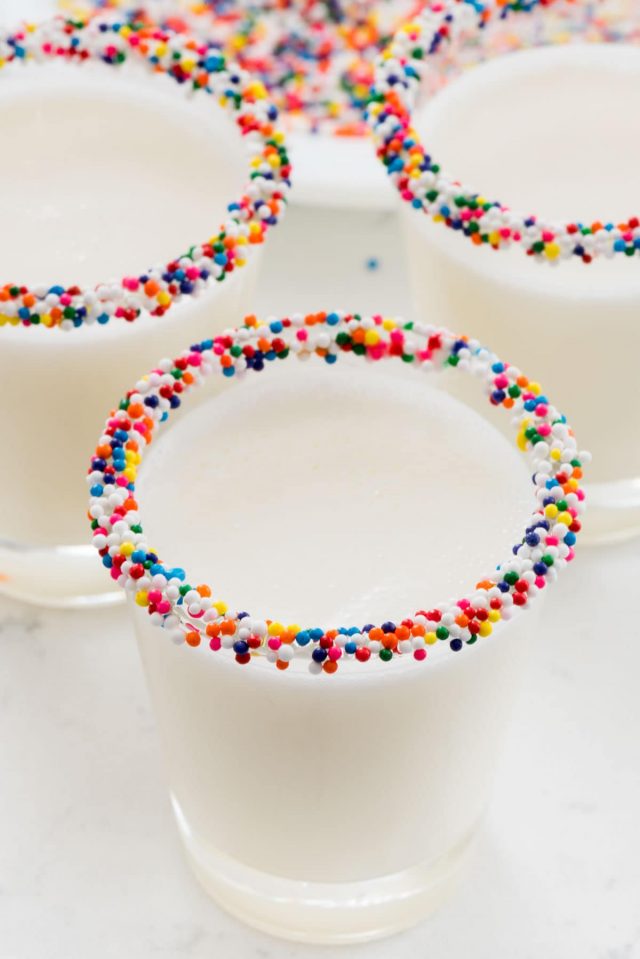 The morning after
Are you worried you might need a little help keeping your New Year's resolutions? If so, we invite you to read 10 Tips to help you keep your New Year's resolution.