Do you want to do some fall entertaining but are not crazy about Halloween? Or perhaps you are feeling particularly social and want another reason to have a party? If so, why not throw a harvest party? They've become fashionable in recent years for good reason. They are warm, inviting and relatively easy. Plus, since most people haven't been to one before, expectations are low so as the host/hostess, you won't feel much pressure. Just read on and we'll tell you what to do, and give you some of our favorite tips, to make your party a great success.
Indoors or outdoors?
First you need to decide where you want to hold your party. If the weather is still warm enough where you live, we recommend holding it outside. It's always nice to grasp precious time out of doors before winter comes and we're forced to remain inside. Alternatively, you can hold much of the party outside but open your kitchen and/or living room for those that wish to remain indoors.
If you hold it outside, we recommend having a pile of blankets for people to snuggle in.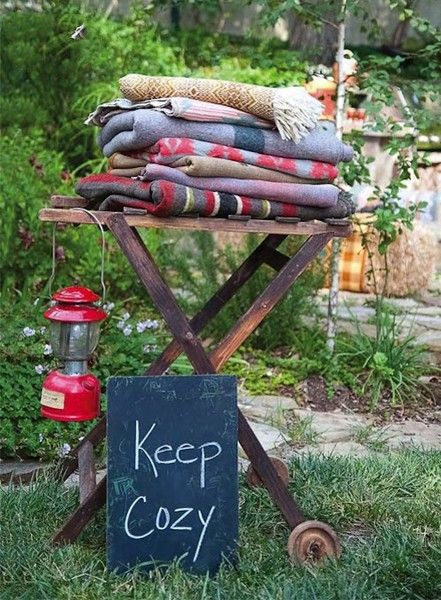 PINWe also love the idea of having a fire pit. It creates a warm, cozy atmosphere for people to chat or simply fire gaze. And you can even make s'mores!
How to decorate
We like to keep things very simple and organic for parties like these. Harvest parties were traditionally thrown after farmers brought in the harvest, so the focus was less on elaborate planning and more on relaxation and great food. We love decorating with gourds and pumpkins. If you're having your party outside, a great idea is to bring in bales of hay. They are not only decorative but can serve as extra seating, or even be used as tables.
What to serve
Our main recommendation is to keep it seasonal. Think warm and hearty. To make it a little healthy, but still in keeping with the theme, we love this idea of making a crudites platter and putting the dip in a carved out pumpkin.

PINTo accompany this, few things are easier and more elegant than baked brie. Here's how to make it:
Preheat oven to 350 degrees

Cover a baking sheet with parchment paper and place the brie on it

Drizzle with honey

Bake 5-7 minutes: it will start to ooze, but not melt

Serve with fresh bread

PINFor the main course, try a warm and savory stew. Elegant versions are beef stroganoff or coq au vin. We love Paula Deen's stroganoff récipe and Eric Ripert's coq au vin recipe.
You can serve the usual drinks: water, wine, apple cider or sparkling cider. But for something really special, that can also double as a dessert, try a hot chocolate bar! You can add things like whipped cream, chocolate chips or even caramel bits.
Finish with a large tray of caramel apples and you will have the sweetest end to your perfect harvest party.