One of our favorite things about the summer is sitting outside, grilling a nice meal and sharing it with friends and family. We've assembled our favorites for you to try. Some are very traditional, and others have a little something different. Enjoy!
Pesto Grilled Shrimp
This one is very simple. You can buy pesto at the store or you can make your own. We prefer to make our own as store bought loses that amazing freshness that is the hallmark of a great pesto. Click here for our favorite pesto recipe. Remember: the secret to a great pesto sauce is to use very high quality ingredients. So take the time to go to Whole Foods or a specialty Italian store and get a very good parmesan cheese and extra virgin olive oil. The best olive oils are usually green in color.
Once you have the pesto, marinate the shrimp in it for a couple hours. Then, skewer the shrimp on sticks (see photo) and put on the grill. If you use wooden skewers, soak them in water for 20 minutes before skewering the shrimp. You can use metal ones and skip this step. Make sure the grill is clean, then spray lightly with oil to prevent sticking. Leave the shrimp on the grill until the bottom turns pink (3-4 minutes). Turn, and leave them until the shrimp turns opaque and cooked through (another 3-4 minutes). We like to serve with lemon juice to add a little citrus zing. Or, to borrow a trick from Jamie Oliver, cut a couple lemons into thick slices and throw them on the grill until they get a jam-like consistency. It gives the lemons a soft flavor, and lovely texture, that are delightful when eaten with the trout. 
Barbecued trout in newspaper
This recipe comes from Jamie Oliver. Everything we have made using his recipes has turned out absolutely amazing. This one has a slightly Asian flair. If you don't like spicy things, omit the red chile. Using newspaper ensures the trout is cooked perfectly. Click here for the recipe.
Emeril's barbecue shrimp and butter biscuits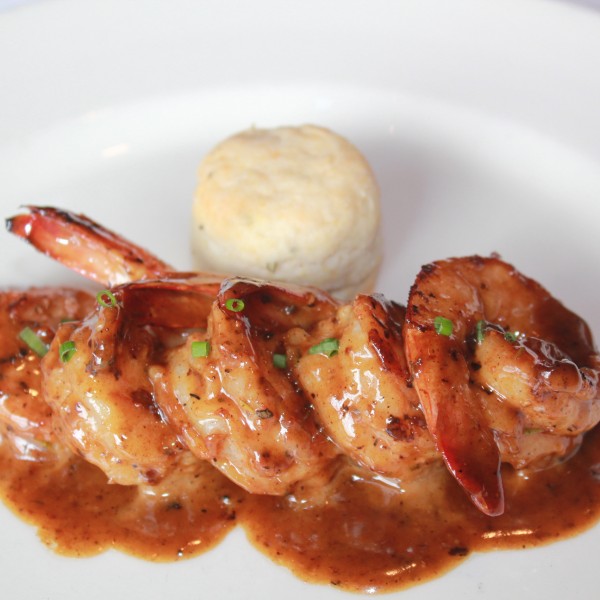 PINThis one doesn't involve grilling, but is the perfect summer barbecue recipe. The recipe explicitly calls for Gulf shrimp, but any will do. If you want something a little lighter you can substitute rice for the biscuits. Click here for the recipe.
Eric Ripert's Slate Grilled Porterhouse
For those of you that have never heard of Eric Ripert, he is the head chef and head owner of Le Bernadin, often rated the best restaurant in New York City. Although the food at his restaurant is often fussy and complicated, he has a number of summer grilling recipes that are simple and delicious. Our favorite is his recipe for a porterhouse steak. What gives it the amazing taste is his method for cooking it- on a piece of slate. It sounds fancy but is super easy- you just go to Home Depot and buy a piece of untreated slate about a quarter of an inch thick. Make sure it's clean, throw it on your grill, heat it up, rub your steak with herbes of provence and throw the steak on the slate. He recommends using a two inch thick dry aged porterhouse and grilling ten minutes on each side. For full instructions click here.
Grilled asparagus with aioli

PINEveryone does corn on the cob when grilling, but we love asparagus. Not only is it healthy, but it is super easy. Just toss it in olive oil, salt and put on the grill for a few minutes until crisp on the outside and tender on the inside. We like to serve it next to aioli (a fancy word for garlicky mayonnaise) for dipping. Here is a recipe for a delicious tarragon and lemon aioli. Here's another recipe for harissa aioli. You can always serve the asparagus with both for a little variety.
Summer grilled vegetables

PINThis is another one from Eric Ripert. It also involves grilling on a slate. For best results, serve it with the porterhouse recipe above. Grill the steaks first, then the vegetables. The juices from the steak will impart an extra flavor to the vegetables. Click here for the recipe.
Ann Herrmann's Maple Barbecue Ribs
This is an easy recipe for a summer standby, barbecued ribs. You can prepare them in the oven or on the grill. We like to use St. Louis style ribs and prepare them on the grill. St. Louis style ribs have more bone than meat, but their high fat content makes them more tender than baby backs. Click here for the maple barbecue rib recipe.
Sparkling White Peach Sangria

PINOf course you can have iced tea or beer with your summer meal. However, for something different and fun we love sparkling white sangría. You will need:
6 white peaches

1 cup peach or apricot brandy

2 bottles of Cava (Spanish sparkling wine). You can use Champagne or an American sparkling wine like Domaine Chandon, but we like the Cava because it's usually cheaper and still of a good quality

Sparkling water
Thinly slice the white peaches (you can even dice if you like) and soak for a couple hours in the brandy. Add the Cava and, if you like, sparkling water to taste. Simple, easy and delicious!