Now that summer is in full swing, we love to spend as much time as possible outdoors. Our favorite way to do this is to create outside living spaces- spaces just as comfortable as indoor spaces. That way, we don't go outside just to barbecue, or go for a swim, but to do everyday activities like read a book, eat dinner or just lay on the couch and listen to music or chat on the phone. Making them requires two steps. First, you need to place furniture on the patio or  lawn and second, to add those small touches that make a space comfortable and inviting. Here are our favorite ways to make this happen:
1.Bring a couch outside- This may sound a little crazy, but makes your outdoor space incredibly luxurious. The important thing is to either find a waterproof couch, or a good cover. Alternatively you can cover it with cushions that can be brought inside if there is a threat of rain or dew. It helps to clean it regularly to keep bugs and other animals at bay. It may be a little extra work, but being able to lay outside on the couch, read a book and sip a tall, cool glass of lemonade is one of the most relaxing things we can think of. If you have dinner parties, your guests will love being able to sit on the couch and socialize in comfort.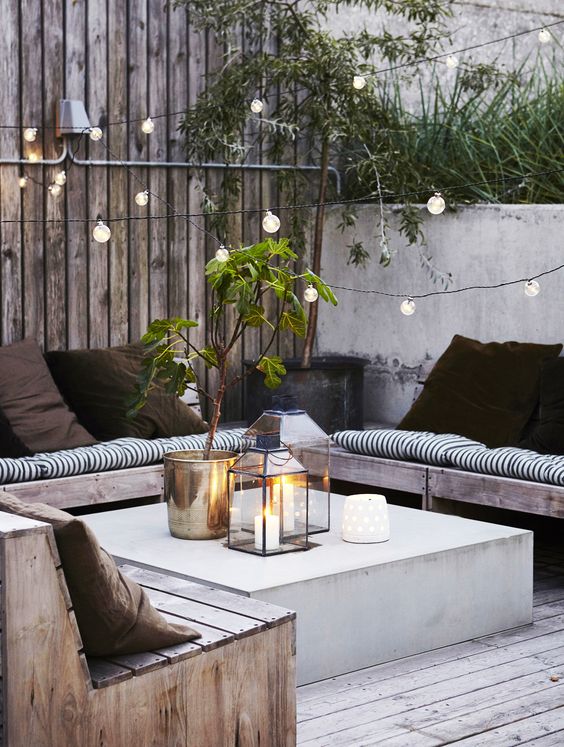 PIN2. Decorate with pallets- Making everyday ítems out of pallets is a decorating trend we love. Not only does it enable you to create big pieces at economical price points, but it is also good for the environment. Comb Pinterest for ideas for everything from bookshelves to coffeee tables. Our favorites: this  DIY pallet sofa– perfectly complemented by this DIY outdoor bar!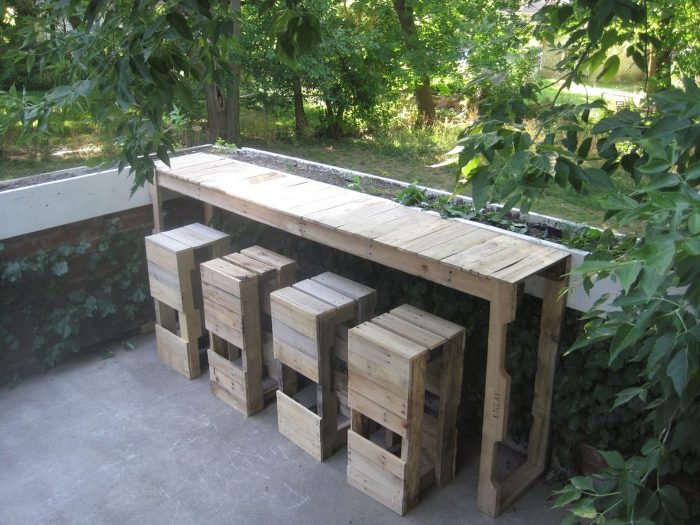 PIN3. Make an indoor/outdoor bar- This is one of our absolute favorites. It takes some money and effort, but extending your kitchen into your outdoor space opens up your whole house to nature. It not only allows your family to enjoy a coffee or casual meal outside, but also enables the cook to enjoy fresh air and the relaxing vibe of nature.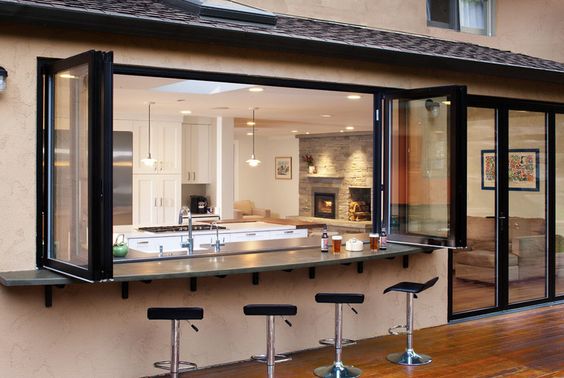 PIN4. Turn a hammock into a day bed- This is an easy way to give yourself a deeply relaxing experience. You can do it very cheaply by making your own swing bed out of pallets, or invest in a beautiful hammock stand and luxurious cushions.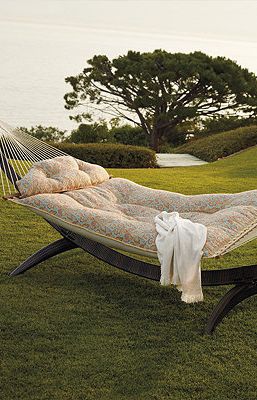 PIN5. Make a pea gravel patio- Worried that putting a couch and table in your existing patio will use up all your space? Not to worry- you can make a new patio out of pea gravel. It's a cheap solution and so easy that you can make your own.  Added benefits: they are  extremely elegant, and you'll have less grass to cut!
6. Install a fire pit- What did the human race do to relax before the TV was invented? They fire gazed. Since then it's been hard coded into our DNA that looking at a fire instantly relaxes us. Plus you can make s'mores! There are some beautiful options available on the market- Home Depot has some lovely ones. We like the idea of putting one on a pea gravel patio. Elegant, plus the pea gravel adds a level of safety.
7. Make a hanging garden- We can't get enough of vertical gardens. They not only add an additional dimension to your outdoor space, but they are just cool. You can install a fancy irrigation system or keep it simple by hanging mutiple pots on a wall. Most of the simple ones you can do yourself. Click here for some creative ideas.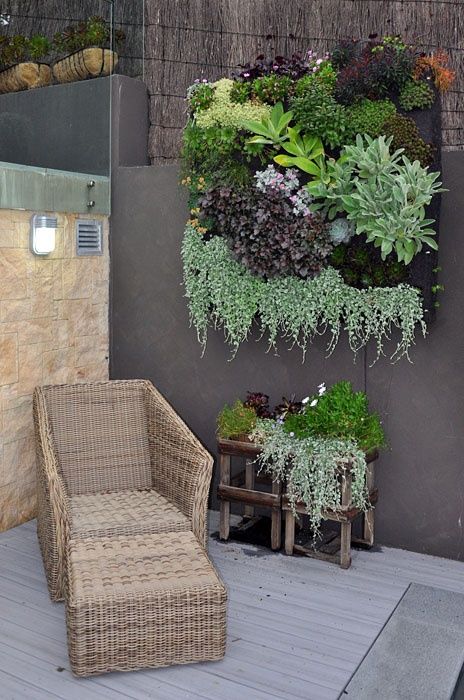 PIN8. Decorate with lights- Outdoor lights allow you to enjoy your space at night as much as during the day. This is especially important if you live in a climate with summers so hot that you need to stay inside during the afternoons. More importantly, they make your space warm, inviting and even add a touch of magic (there's a reason the English call them fairy lights).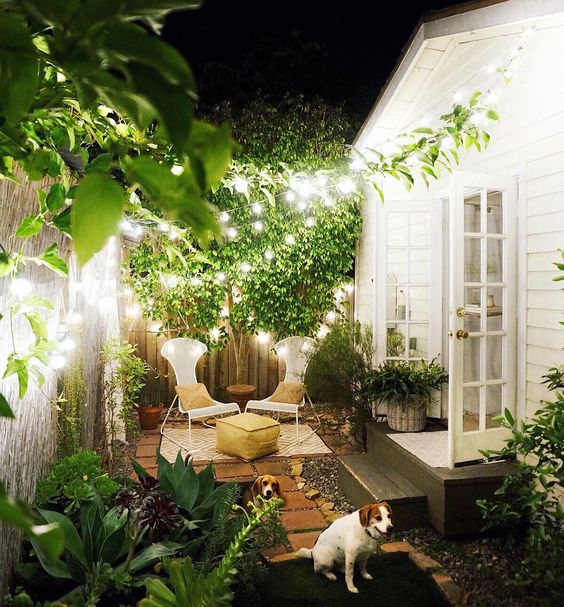 PIN9. Keep the bugs away with style- Nothing ruins an evening like itchy mosquito bites. Instead of spraying commercial bug repellents, we like scattering the area with citronella candles. They are both functional and decorative. For something really special, you can make these lovely natural bug repellent candles in Mason jars.

PIN10. Project a movie- This is so easy. Hang a white sheet between two trees and project a movie onto it. You can use it as decoration during a casual dinner party, or turn your backyard into a movie theater. You can buy pocket projectors at Brookstone- some of the new laptops even include them.