Since the River Club will be at The Homebuilder's Association of Cumberland County's 2016 Home Show this weekend, we decided to dedicate this week's blog post to the latest design trends. We combed design magazines, blogs, Pinterest and physical stores to find the latest and greatest.
1. Panatone Pink Quartz+Serenity- Pantone is the world-wide authority on color. Each year they chose a color that they think best characterizes global cultural trends and moods. 2016 is the first year they chose two colors: pink quartz, a lovely rose shade, and serenity, a tranquil light blue. According to the Panatone Color Institute, "As consumers seek mindfulness and well-being as an antidote to modern day stresses, welcoming colors that psychologically fulfill our yearning for reassurance and security are becoming more prominent. Joined together, Rose Quartz and Serenity demonstrate an inherent balance between a warmer embracing rose tone and the cooler tranquil blue, reflecting connection and wellness as well as a soothing sense of order and peace." Incorporating these two colors together, in the home, is one of the most prevalent trends of 2016.
2. Metals- Silver, gold and copper are popping up everywhere this year. We saw this trend take many forms: Mixing them in different ways is one of the biggest. For example mixing the metals themselves (eg: silver and platinum), or mixing different textures of the same color (eg: items of both brushed and shiny gold in the same room). We also a large number of rooms that mixed pink with copper or gold. Metallic wallpaper is also very popular right now.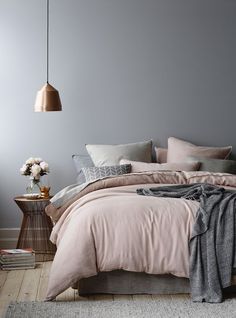 PIN3. Statement Lighting- There is a big trend away from overhead lighting, and towards table and floor lamps. In more contemporary spaces we saw lighting inserted into unexpected places like under stairways and around mirrors. The Edison bulb, a trend that started a couple years ago, continues to figure prominently in interior spaces.
4. Kitchens designed for entertaining- Gone are the days where the cook slaves away, alone, in the kitchen. Modern kitchens are designed with the idea that the host/hostess of the party would like to socialize with guests while they prepare food for a dinner party. This trend has become even more pronounced with the recent popularity of cooking shows and restaurants with open kitchens.
5. Open and airy-This is a broader example of kitchens being designed for entertaining. We're not sure where it comes from- perhaps it started with the loft spaces that have become trendy in cities where warehouse districts have been converted into residential neighborhoods. Or perhaps it comes from people leading more relaxed lifestyles. Regardless, there is a strong trend away from small, box like rooms and towards large open spaces that merge living rooms, dining rooms and kitchens. Another manifestation of this trend is the prevalence of large sectional sofas spread across entire rooms.

6. Scandinavian inspired design– It all started with Ikea. Since then, Scandinavian design has continued to gain popularity in the US. This year we think it's gained enough traction to clearly call it a trend. Our favorite way to incorporate it into home design is to use a lot of white (easier if you're retired and your kids are grown)!
7. Reclaimed materials- Over the past few years, many Americans have become increasingly concerned with the environment. This has led to an increased awareness of the need to recycle. Now people don't just recycle bottles and cans, they recycle wood and other materials and use them in home décor.

PIN8. Eco Friendly- This is the broader design trend that we just saw an example of with reclaimed materials. People are taking their interest in the environment to a whole other level. This encompasses everything from eco friendly cleaning products to organic cotton rugs and sofa coverings. The most extreme thing we saw was people lining their walls with materials designed to block out electromagnetic fields. Sounds like a great plan until you need to use your cell phone!

9. Bringing nature indoors- This captures a number of smaller trends, such as interior concrete and stone floors, bringing patio furniture and shrubbery inside. Our favorite though is the most extreme: interior vertical gardens! We like them so much we might even dedicate a future blog post just to them.
10. Botanicals/Florals- We saw botanicals and florals everywhere! On wallpaper, sofa and chair coverings, sheets, carpets and towels. We love them all, in particular this print we found on a post card. We're planning on framing it and hanging it in place of a photograph or painting.